Know Your Rights.
Fight Fear With Facts.
We're Here To Help.
---
Status of Trump Administration's Public Charge rule: REMAINS IN PLACE
November 4, 2020
Please continue to keep children enrolled in health coverage and use this guide to help you understand how public benefits affect immigration options.
UPDATE: Only one day after a federal district court blocked the Trump administration's public charge rule across the nation, a federal circuit court of appeals decided to allow the administration to continue applying its new public charge test while it appeals this decision. More details below.
On Monday November 2, 2020, the district court in Cook County, Illinois, et al v. Wolf et. al. ruled on the merits of the Trump Administration's Public Charge rule in favor of Plaintiffs on their claim that DHS's Public Charge Rule violates the Administrative Procedure Act (APA) and held the new definition of public charge from moving forward.
Then, on November 3, 2020, the Seventh Circuit Court issued an "administrative stay" of the District court's November 2, 2020 decision to vacate the DHS Public Charge Final rule during an appeal process and effective immediately.
Therefore, U.S. Citizenship and Immigration Services (USCIS) may continue to apply the new public charge rule, including requiring submission of Form I-944, while the government appeals the District' Court's 11/2/20 decision.
An Informed Community Is A Strong Community
Public Charge: Will It Affect Me?
---
Use our roadmap to find out if you would be affected by public charge:
You'll also notice a blank space on the fact sheet. Feel free to add a sticker with your local legal resources or other up-to-date messages for your community!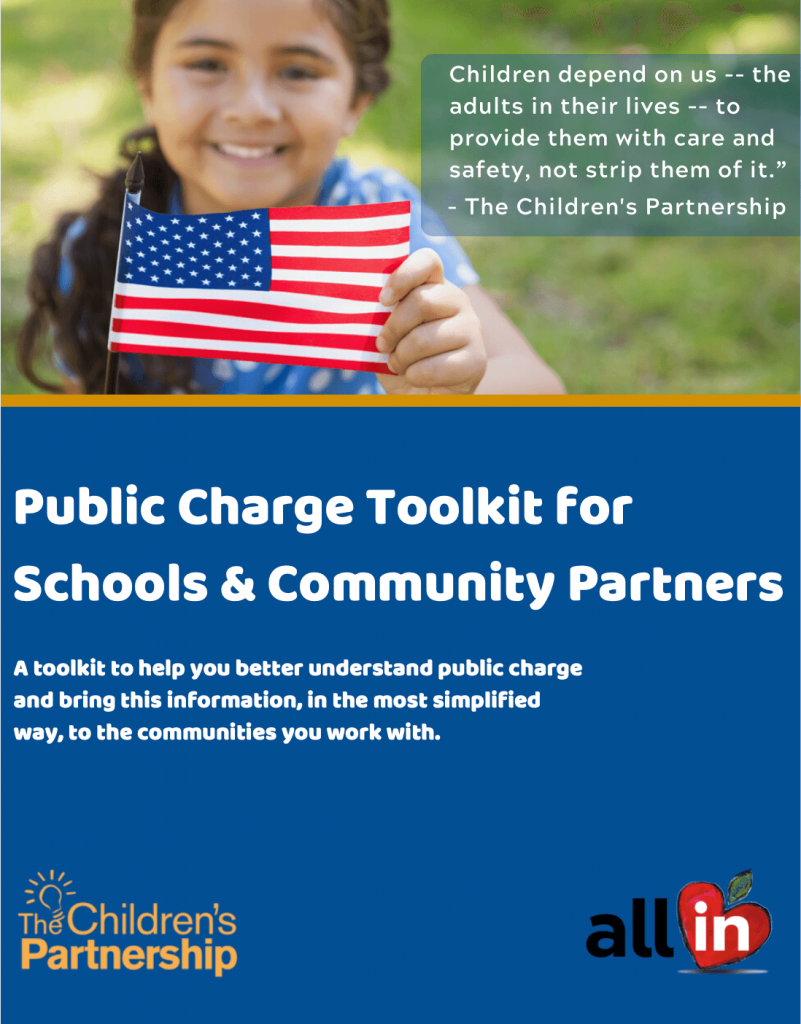 We are excited to share a new toolkit to help you better understand public charge and  help you bring this information to the schools and communities you work with. 
We recognize that public charge is a complicated issue, that there is a lot of misinformation out there, and that a lot is changing rapidly. In each community there are trusted messengers to bring information to families, and we want to help you prepare, have the most updated information, and share tools that have proven successful in educating partners and communities on this important and complex issue. 
Here's a glimpse of what you'll find in the toolkit:
Public Charge Road Map 

Talking Points

Frequently Asked Questions

Template Emails 

Resources 

And more tools…
To access the toolkit, please fill out the following form:
Rules about public benefits and immigrants are confusing. But benefits can help your family stay healthy and thrive. The LIBRE Project is here to help! Learn more about how public benefits could affect different types of immigration statuses by using their guide:
Over the last year and a half, we have worked with national, state and local partners to advocate against changes to the public charge rule, stay updated, create supportive messaging and tools, and educate and empower families. Our materials are based on verified information developed by our partners. You can learn more from visiting the sites below.